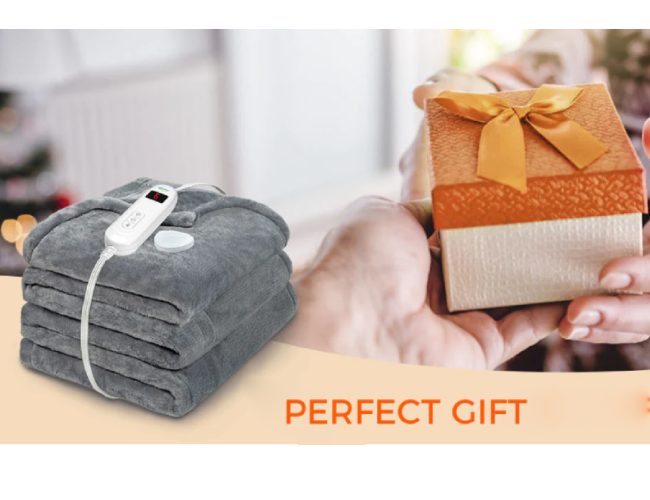 What to Know Before Buying an Electric Heated Blanket
When the temperature drops, you think of hot drinks, woolly socks and an electric blanket to prepare the bed for a warm and cosy night's sleep. Depending on how much you want to spend, you can buy a simple electric heated blanket from online or offline stores, but there are also options with a few more bells and whistles.
👀 What Should You Look Out For In An Electric Blanket? 👀
✅ Overheating Protection: This detects abnormal temperature fluctuations and switches the blanket off if it gets too hot.
✅
Comfort
: Pay attention to how thick the material is and how far the heating elements protrude when you lie on the blanket. Some blankets can be uncomfortable if you sleep on your side, at the point where the controller is inserted into the element.
✅

Material
: Much of the cost of an electric blanket depends on its composition. A wool fleece blanket offers extra comfort and is more expensive than a thin mattress topper. Some are waterproof, quilted or have antibacterial properties.
✅

Washable
: Generally, electric blankets can be washed in the washing machine on a delicate cycle (after the controls have been removed). Some have practical removable covers that make cleaning easier. Most blankets need to be line-dried, but some are suitable for tumble drying on a cold setting (check the instructions for your model).
✅

Programmable Settings
: This allows you to preset a maximum heat setting at a specific time. Some models also have timers (e.g. for one, three or five hours). Some models even have smartphone apps and work with smart home hubs such as Alexa or Google, so you can turn your blanket on or off with a voice command.
✅

Raised Markings or Lights
: If you change the settings of your blanket during the night, look for a control with raised markings so that you can recognise the settings in the dark. Alternatively, look for a light to indicate that the ceiling is on. An illuminated LCD screen also makes it easier to see the settings in the dark.
✨ How to Use an Electric Blanket Safely? ✨
Electric heated blankets offer a convenient way to stay cozy and warm. But there's also something about the combination of fabric blankets and electrical cords that can seem at least a little dangerous. Some tips are here for your reference:
💖 Electric Blankets must carry ETL and FDA certificates for US market and CE, GS, and UKCA certificates for EU markets;
💖 Read the instructions and follow the manufacturer's recommendations for use and care;
💖 Test the electric blankets before use;
💖 Never use an electric blanket with an extension cord as it could be overloaded. 
💖 Turn off when not in use;
💖 Turn off before you fall asleep, if there's no built-in timer;
💖 Don't allow pets on the heated blanket as they may damage the cords with their claws;
🤔 Are Heated Blankets Bad For You? 🤔
The connection between electric and magnetic fields (EMF) and cancer has been discussed for years.

According to the National Cancer Institute's trusted source, electric blankets are a source of extremely low frequency electric and magnetic fields (ELF-EMF), as are high-voltage power lines, electrical wiring and electrical appliances such as hair dryers and razors.

The National Cancer Institute points out that "no mechanism has been identified by which ELF-EMFs or radiofrequency radiation could cause cancer"

Berkeley Wellness also points out that there is "no convincing evidence that typical EMF exposures pose a cancer risk".
🔔 

Are Heated Blankets Safe for Pregnancy? 

🔔
Developing fetuses can be sensitive to environmental conditions. To avoid the risk of possible complications, the World Health Organization (WHO) Trusted Source recommends that pregnant women should not use electric blankets during pregnancy.

In addition to electric blankets, pregnant women should also avoid overheating in saunas and hot tubs.
🎁 

Best Heated Blanket Recommendation 

🎁
🔗
Berkshire Blanket Velvet Loft Striped Heated Blanket (Queen): $84.99
🔗
Sunbeam Electric Heated Fleece Blanket, Full, Newport Blue: $55
🔗
ALLJOY 50x60" Electric Heated Flannel Throw Blanket: $29.99