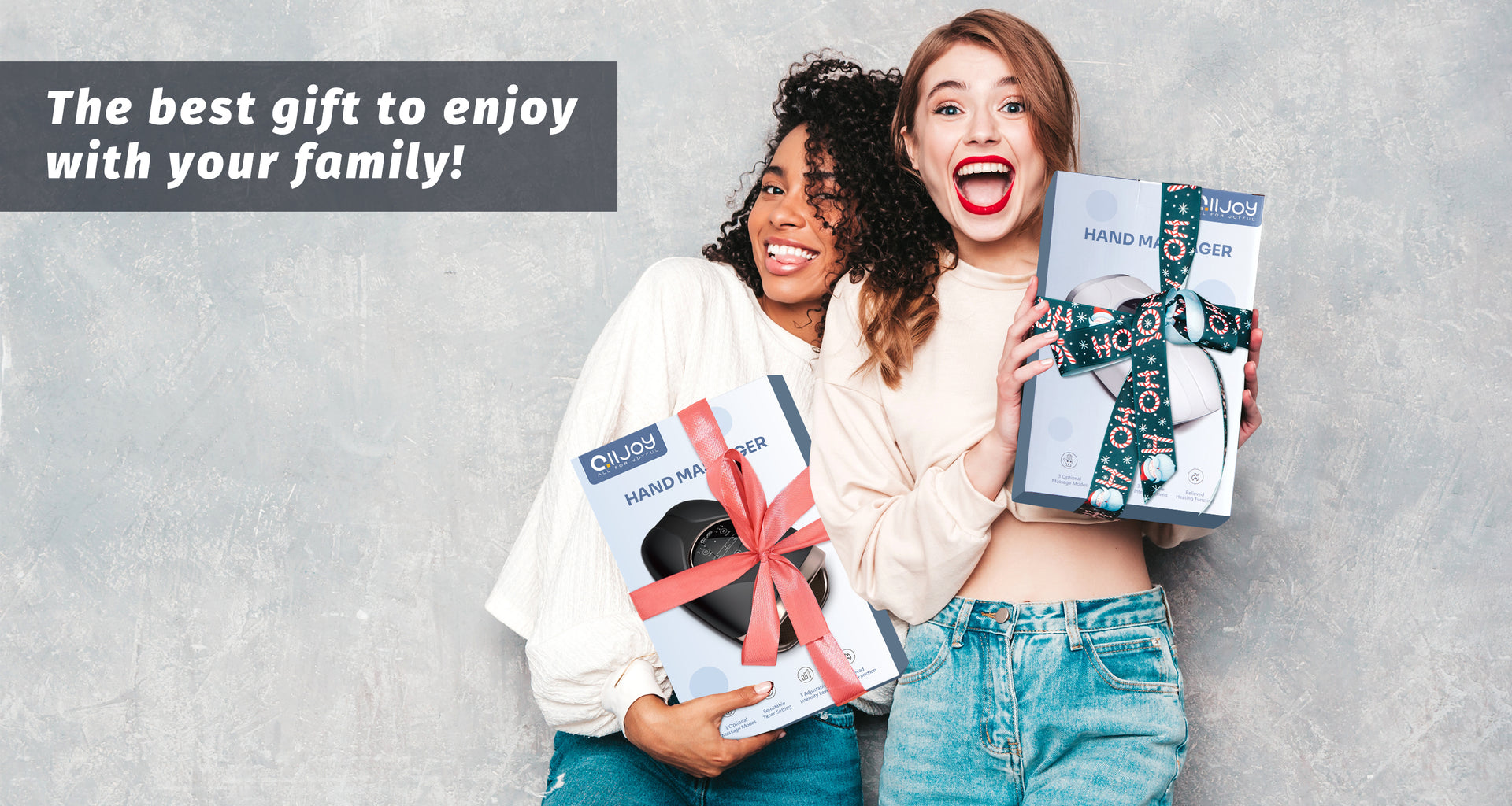 Mother day gift ideas!
    No matter their age, mothers are a blessing to all. They tirelessly work day and night to ensure the safety and well-being of their children. Although it's nearly impossible to repay the care they've showered on us since birth, we can strive to offer them the comfort they truly deserve.
    This Mother's Day, consider combining gift ideas to provide your mom with a holistic experience that rejuvenates her mind, body, and spirit. By gifting her a massaging pillow, a heating pad, and a foot warmer, you can help her feel revitalized both inside and out.
  Elevating the Mind and Spirit with Body Care Products
  The ALL JOY® massage pillow is no ordinary accessory. It delivers a 3D massage experience that penetrates deep into the tissues, ensuring your mother emerges from each session completely stress-free.
Relief from neck and shoulder fatigue.

Effortless one-button operation for ease of use.
Versatile application for various body parts beyond the neck and back.
Features a washable dust cover for easy maintenance.
Generates safe and rapid heat, effectively reaching deep into muscles for unparalleled relaxation.
Lightweight design makes it a convenient on-the-go comfort companion for your mother.
    What sets the Heating Pad G2 apart from the rest? Here are a few of its distinguishing features:
Offers both dry and moist heat therapy options, with the moist mode delivering a more profound and soothing heat massage experience.
Allows for time adjustments ranging from half-hour to one hour and even 90 minutes.
Provides 6 heat levels, catering to different intensities for optimal warmth during colder periods.
    Alternatively, you can opt for a larger heating pad that enhances blood circulation and offers adjustable heat levels.
    Constant movement can lead to quick fatigue in your mother's feet. This foot warmer can bring comfort and relaxation to her feet by:
Featuring a smart memory function that retains heat intensity settings, eliminating the need for frequent readjustments.
Heating up within seconds, eliminating any waiting time.
Automatically turning off after 2 hours of use, promoting energy conservation.
Being washable, portable, and USB-powered for convenient use anywhere.
    Whether it's summer or winter, this foot warmer is a dependable source of comfort for your mother.
Unique Attributes of These Products
Safe Electric Heating Process
    Bid farewell to body pain without fretting about safety. The electric heating features are secure, thanks to layers of advanced technology and protective surfaces.
Portability
    Whether it's the massage pillow, heating pad, or foot warmer, all these products are portable. Your mother can use them at her convenience, wherever she goes.
Customizable Comfort
  Furthermore, the range of intensity levels empowers your mother with complete control over the heat she receives.
Conclusion: Mother's Day Gift Ideas
  This Mother's Day in 2023, offer your mother a comprehensive relaxation experience. Remember that advanced technology has elevated physical care products to soothe not only the body but also the mind and spirit. Opt for an encompassing and enduring experience with the ALLJOY massage pillow, heating pad, and foot warmer. Consider bundling them for a Mother's Day gift that's affordable and undeniably valuable.